Nature Travel: Embracing the Wonders of the Great Outdoors
What's the first thing that comes to your mind when you think about nature? Probably you get a sense of tranquility and peace. You may also imagine lush green forests, towering mountains, cascading waterfalls, and the soothing sounds of birds chirping.
Start your adventure travel now!
---
Close your eyes and inhale. Exhale. Inhale and exhale once again. So let the feelings of the harmonious balance of nature enter your body. Now, think about the best natural adventure you have ever had. Did you travel far away from home? What did you see? How did that experience make you feel?
In today's digitally connected world, reconnecting with nature is a privilege. Then, natural adventures and wildlife tours are the best way to recharge from the chaos of modern life. So if you're seeking a nature travel experience, Rebecca Adventure Travel offers excellent tours in Ecuador, Colombia, and Peru. These South American countries have abundant natural wonders and will leave unforgettable memories for all the family.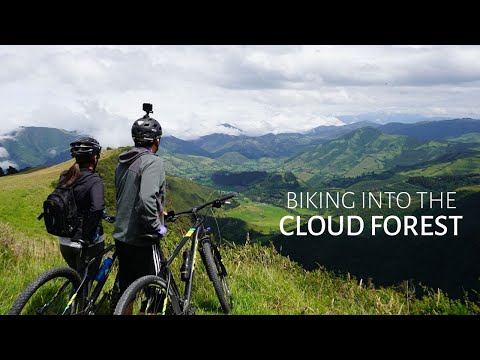 ---
Top 5 Best Nature Tours
Rebecca Adventure Travel offers a range of exceptional tours designed to cater to diverse interests and unforgettable experiences for travelers from around the globe. The tours ensure an exceptional journey through the treasures of Ecuador, Colombia, and Peru.
Discover the best of mainland Ecuador through its four distinct regions in a 19-day tour: the majestic Andes mountains, the lush Amazon jungle, the picturesque Pacific Coast, and the iconic Galapagos Islands.
This four-day, three-night tour is ideal for nature enthusiasts seeking adventure in the heart of the Yasuni National Park. Experience the thrill of forest walks, caiman-spotting, and unique wildlife encounters!
If you want an immersive natural tour, free from distractions, this tailor-made program is for you. You'll rest in an eco-friendly lodge and will be able to enjoy a diverse range of activities, including wildlife spotting by canoe, hikes, and swimming breaks.
Explore the extraordinary Galapagos Islands on a diving tour. Discover the Islands through organized tours led by an English-speaking guide, as well as moments of independent exploration with the self-guided packages.
The nine-day tour is tailored for adventurers seeking to delve into the rich Ecuadorian-Andean culture through hiking, biking, and more outdoor activities. You'll have an immersive hiking and biking expedition, as well as enjoy exhilarating adventures in a remarkable Andes expedition.
---
What is Nature Travel?
Nature travel, also referred to as nature-based tourism, is a travel style that's focused on exploring and experiencing the world's natural wonders. This form of travel is based on a sustainable and responsible approach to the natural environment, biodiversity, and cultural heritage of a destination.
Nature tours offer travelers the opportunity to forge a deep connection with nature while engaging in outdoor activities such as hiking, bird-watching, camping, kayaking, snorkeling, and diving, among others. These tours foster an appreciation for the destination while learning about the environment and local communities.
The key four principles of nature travel include:
Conservation: Nature travel is committed to the preservation and protection of natural habitats, wildlife, and ecosystems. It seeks to minimize human impact on fragile environments, promoting sustainable practices.
Education: Nature tours go beyond mere exploration. They emphasize the importance of learning and understanding the natural world and the communities that inhabit it. Travelers have the opportunity to deepen their knowledge of environmental issues, biodiversity, and local cultures.
Sustainability: Sustainability lies at the core of nature travel, promoting responsible travel practices that minimize the impact on the destination. It involves conscious choices to reduce waste, conserve resources, and support eco-friendly initiatives.
Responsible travel: Nature travel encourages responsible engagement with local communities, respecting their cultural heritage and traditions. Visitors can support local businesses, work with local guides, and contribute positively to the economic and social development of the destination.
---
Rebecca's Top Picks
Rebecca Braak, founder of Rebecca Adventure Travel, is passionate about crafting exceptional nature tours in Ecuador, Colombia, and Peru. In fact, Rebecca loves to create tours that allow travelers to explore the natural beauty, rich cultural heritage, and diverse landscapes of the best of South America.
Explore the hidden treasures of the Galapagos Islands. Thus this tour blends organized day tours and the opportunity for travelers to explore the Archipelago through the self-guided packages offered by Rebecca Adventure Travel.
Immerse in the splendor of the Andes with the captivating 9-day Quito and Andes program. This tour is designed for guests seeking to witness the breathtaking snow-capped mountains while experiencing outdoor activities.
Explore Ecuador's hidden gems with the exclusive 11-day Luxury Nature Ecuador tour. Besides a meticulously crafted itinerary, the tour is an opportunity to venture off the beaten path, ensuring comfort and outdoor activities.
---
Exploring the Breathtaking Landscapes of Ecuador
Located on the equator, Ecuador is a nature lover's paradise. It has very diverse landscapes, from the Amazon rainforest to the snow-capped peaks of the Andes. The Galapagos Islands are the country's jewel, a UNESCO World Heritage site, and a must-visit destination for wildlife enthusiasts. The country is blessed with breathtaking landscapes, rich cultural heritage, and diverse ecosystems.
Ecuador is a small country that has it all: from lush rainforests to pristine beaches, there are multiple breathtaking landscapes for all types of travelers.
The Galapagos Islands
The Galapagos Islands are a living laboratory of unique wildlife. There are multiple species to discover while witnessing the daily life of species found nowhere else on the planet.
If you choose wildlife tours with Rebecca Adventure Travel in the Galapagos, you'll be able to encounter marine iguanas, playful sea lions, giant tortoises, and a myriad of bird species. Moreover, you'll be able to snorkel with colorful fish, dive with hammerhead sharks, and hike on lunar-like landscapes.
The Splendors of the Ecuadorian Coast
The Ecuadorian Coast is a hidden gem brimming with natural wonders and breathtaking landscapes. Lately, the Pacific Coast is emerging as a captivating vacation destination, with stunning beaches, charming towns, and vibrant cultures. The coastal region is accessible by convenient flights to Guayaquil or Manta.
Moreover, throughout the coast, travelers can stay in beautiful hotels with high-quality accommodations and prime locations. While exploring captivating destinations and nature tours, you'll be able to witness the splendor of the Ecuadorian Coast at its best.
Cloud Forest
Nestled in the Andean mountains, Ecuador's Cloud Forest is a realm of beauty and biodiversity. This destination is shrouded in mist and lush greenery. It offers a glimpse of magnificence and tranquility.
The Cloud Forest is a haven for biodiversity. It has extraordinary flora and fauna. It's home to an array of bird species, including:
Andean cock-of-the-rock
Toucans
Hummingbirds
This destination is heaven for nature enthusiasts. They will be able to witness unique plants, such as orchids, bromeliads, and moss-covered trees. Also, there are multiple opportunities for birdwatching and hiking tours.
Amazon Rainforest
The Ecuadorian Amazon is one of the most biodiverse regions on Earth. When you visit the Amazon, you immerse instantly in the symphony of vibrant color, exotic wildlife, and ancient trees that tower above you.
If you're up for an adventure, the Amazon lets you explore the lush jungle trails, navigate ancient rivers, and meditate along the cacophony of forest sounds. Moreover, you can encounter playful monkeys, colorful birds, jaguars, and the unique culture of indigenous communities.
The Ecuadorian rainforest is a pristine ecosystem and a haven of natural wonders awaiting to be explored. Also is home to an astounding array of flora and fauna. It's estimated that there are around 16,000 plant species and 1,600 bird species.
The Amazon is a Tapestry of Indigenous Cultures
Also, the Ecuadorian Amazon is home to various indigenous communities that have lived in harmony with nature for centuries. They live in the rainforest with their unique traditions, languages, ancestral lands, and way of life:
Secoya: Secoya communities have a harmonious relationship with nature. They maintain their cultural heritage very close to the rainforest.
Siona: The Sionas have traditional knowledge of medicinal plants and sustainable farming techniques. They preserve their cultural practices, including their long-standing history in the Ecuadorian rainforest.
Cofan: The Cofan people are storytellers who have inhabited the Ecuadorian rainforest for centuries. They are actively engaged in conservation efforts to protect the Amazon.
Waorani: The Waorani are skilled hunters and gatherers. They have a rich oral tradition and a harmonious relationship with the rainforest.
Achuar: Achuar people have a spiritual connection to nature. They believe that the jungle has a soul and can communicate.
Shuar: The Shuar are a warrior culture with a deep connection to the rainforest. They are known for their profound knowledge of medicinal plants and their understanding of the ecosystem.
Kichwa: The Kichwa people are one of the largest indigenous groups in Ecuador. In the Amazon region, the Kichwa have a strong presence, showcasing their rich cultural heritage, traditional craftsmanship, and spiritual practices.
The Tagaeri and Taromenane are indigenous groups that live in voluntary isolation within the Ecuadorian rainforest. Both have made clear their desire to maintain their isolation and protect their territories from external influences.
Navigate across the Napo River!
The Avenue of the Volcanoes
In the 19th century, German scientist and explorer Alexander von Humboldt coined the term "Avenue of the Volcanoes" when he visited the country. He was marveled by the presence of numerous towering volcanoes along the scenic corridor.
More than 70 volcanoes cross the country from north to south, in a 217.48 miles (350 km) stretch. Nowadays, the Mountain Season starts in June and August in Ecuador. There are plenty of opportunities to enjoy outdoor activities such as hiking, climbing, mountain biking, and horseback riding, among other activities the country offers.
Along the volcanic corridor, travelers get awe-inspiring views at every turn. Therefore, If you're an adventurous traveler, with Rebecca Adventure Travel you can explore:
Ecuador Volcanos
Pichincha Volcano: Pichincha Volcano dominates Quito's skyline. The volcanic complex consists of two peaks: Rucu Pichincha and Guagua Pichincha. It's a great destination for hiking and outdoor activities.
Cotopaxi Volcano: Cotopaxi is one of the highest active volcanoes in the world. It's one of the most visited destinations in Ecuador. It's renowned for its perfectly symmetrical cone, as well as a popular climbing destination. Also, you can explore the Cotopaxi National Park in different ways: hiking, biking, or horseback riding.
Cayambe Volcano: Cayambe is a sneaky volcano. Even though it's the third-highest peak in Ecuador, it's almost always shrouded in clouds. However, it's a popular destination for adventurers because of the beautiful landscapes that surround it.
Antisana Volcano: Located southeast of Quito, Antisana is an inactive volcano. It's famous for being part of the Antisana Ecological Reserve, where there are opportunities for hiking, mountain biking, mountaineering, and wildlife observation.
Illinizas Volcanoes: The Illiniza Volcanoes have breathtaking views of the valleys and peaks. The trek to the summits is best suited for intermediate and advanced climbers.
Chimborazo Volcano: The mighty Chimborazo Volcano is the highest peak in Ecuador. It's also the farthest point from the Earth's center due to the equatorial bulge. You can explore the majestic landscape of the Chimborazo Wildlife Reserve and marvel at the beautiful views of the Ecuadorian highlands.
Quilotoa Crater Lake: If you're looking for a different kind of volcano experience, the breathtaking Quilotoa Crater Lake is a must. It's a volcanic caldera with turquoise waters surrounded by rugged cliffs. You can hike on the rim of the crater or descend to the lake's shore.
---
A Guide to Nature Tours: A Memorable Journey with Rebecca Adventure Travel
A nature tour with Rebecca Adventure Travel promises an unforgettable experience that immerses adventurers in the best of Ecuador, Colombia, and Peru.
Inspired? Plan your nature trip today!
Also with a commitment to sustainability, responsible tourism, and a passion for adventure, the team at Rebecca Adventure Travel curates exceptional nature tours that allow you to reconnect with natural wonders, discover hidden treasures, and create lasting memories. Then, what to expect when you plan nature in Ecuador, Colombia, and Peru?
Spectacular Landscapes: Nature tours with Rebecca Adventure Travel are planned with the best of nature in mind. Whether it's exploring the lush rainforest of the Amazon, hiking through the beauty of the Andes, or enjoying the beaches of the Pacific coast, each destination has so much to offer.
Expert Guides and Authentic Experiences: Each tour is led by experienced guides who love nature and enjoy exploring natural wonders. With their guide, you'll be able to learn about the destination while identifying rare wildlife and engaging with local communities.
Unique Activities: Nature tours offer an exciting opportunity to discover a destination through outdoor activities. The itineraries are thoughtfully designed to cater to different interests and fitness levels.
Responsible and Sustainable Travel: Rebecca Adventure Travel commits to following responsible and sustainable tourism practices. Supporting local communities and ensuring minimal environmental impact is transcendental to Rebecca when creating nature tours. Through the tours, you'll have the chance to contribute positively to the regions you visit.
Unforgettable Memories: A nature tour is not just about exploring nature. Nature travel is about creating memories and forging meaningful connections with fellow travelers, sharing stories while witnessing breathtaking sunsets, or encountering unique wildlife. These experiences give travelers a deep appreciation for the world!
---
Build Your Trip
Finally, contact us and create your personalized and customized trip. Then one of our Destination Experts will be happy to assist you organize the nature travel of your dreams!