In order to be part of responsible tourism in developing countries, Rebecca Adventure Travel is committed to its Responsible Travel Strategy. There are also different foundations that are receiving donations and funding from Rebecca Adventure Travel.
---

Our Commitment to Responsible Tourism
In our endeavor to contribute to responsible tourism in developing countries, Rebecca Adventure Travel is wholeheartedly committed to our Responsible Travel Strategy. We recognize the significance of this approach and the positive impact it can have on both our guests and the destinations we serve. As part of this commitment, we extend support to various foundations that align with our values and ideals.
Responsible Travel Strategy
Our Responsible Travel Objectives encompass social, ecological, and economic responsibility. This commitment not only serves the best interests of our valued guests but also underscores our dedication to making a constructive contribution to the countries we engage with. To achieve these goals, we collaborate closely with local family-owned hotels and transportation services, fostering economic growth and promoting intercultural learning when tourists immerse themselves in the beauty of South America. Notably, beyond the Amazon and Andes, the Galapagos Islands stand as a coveted destination, celebrated for their pristine magnificence.
---

Responsible Travel Aims
Our Responsible Travel Objectives encompass:
Facilitating intercultural learning between local communities and travelers.
Minimizing the environmental impact of travel through partnerships with eco-friendly suppliers.
To achieve these aims, a series of initiatives are diligently followed by providers, employees, and guests. These initiatives focus on addressing three primary impact areas: Environmental, Economic, and Social.
Environmental Impacts
Implementation of paper reuse practices.

Utilization of energy-efficient laptops.

Transition to online administration.

Adoption of organic food during team lunches.

Employment of biodegradable cleaning supplies.

Embrace of second-hand furnishings.

Collaboration with eco-hotels.

Office-wide waste separation for effective recycling.

Adoption of water tanks on tour buses, replacing individual bottled water (shared day tours).
Economic Impacts
Sponsorship of local initiatives.

Exclusive collaboration with local guides, many of whom support their own families.

Distribution of canvas bags at the start of trips to curtail plastic waste.

Incorporation of locally sourced welcome packages.

Preference for eco-friendly accommodations.
Social Impacts
Engagement of Rebecca Adventure Travel staff as volunteers at local foundations.
Offering Amazon tours to promote nature and cultural conservation awareness.
To guarantee consistent quality and service throughout the entire customer journey, Rebecca Adventure Travel conducts thorough audits with our providers. These assessments facilitate recommendations for enhancements, encompassing water and paper conservation, behavior and responsibilities within National Parks, and more. Reports of these audits can be made available upon request through our CRM system.
---

Travelers Code of Conduct
For every traveler, we provide a "Travelers Code of Conduct" (Local Guidelines for Guests), which outlines communication norms with locals, waste reduction strategies, and methods to support local communities.
---

The Organizations We Collaborate With
In alignment with our responsible travel commitments and guiding principles, Rebecca Adventure Travel actively supports several noteworthy foundations that are dedicated to enhancing the well-being of local communities and the environment. Discover our engagement in fostering the talents of Ecuadorian youths. Additionally, explore our partnership with a local primary and secondary school situated in the Isinlivi community, a four-hour drive south of Quito. Here, regular contributions are channeled to benefit around 250 students. As you consider embarking on a journey with Rebecca Adventure Travel, we encourage you to explore opportunities to contribute to local schools and families. Your generosity holds the potential to make a profound impact on those who require assistance.
Local Dreamers and Rebecca Adventure Travel
One of the foundations we proudly endorse, Local Dreamers, is dedicated to creating a safe and nurturing space for Ecuadorian children and teenagers aged 6 to 16. This initiative is unwavering in its commitment to fostering talent development, irrespective of gender, race, or socioeconomic background. Local Dreamers operates through self-sustaining projects that gradually empower the local community, ultimately transferring control and agency to the inhabitants of these project areas. This is achieved through a dynamic blend of sports, language acquisition, creative pursuits, and intercultural communication. At the heart of their mission is the drive to facilitate personal and social growth among Ecuadorian youth. Working in partnership with Rebecca Adventure Travel, Local Dreamers is making a lasting impact on the lives of the next generation.
---

Additional Foundations
Rebecca Adventure Travel extends its support to other foundations as well:
If you have a foundation in mind that you believe deserves our support and engagement, please don't hesitate to contact us. Your suggestions are valuable in expanding our philanthropic reach.
Donations and Community Work
Rebecca Adventure Travel's engagement with Local Dreamers and other organizations goes beyond financial support, encompassing regular donations of essential goods. If you intend to contribute goods for Local Dreamers, the school, or the communities, please notify us in advance so that we can provide you with the necessary details. Personally delivering these contributions during your journey is a gratifying experience, enabling you to directly witness the positive impact on the recipients.
Creating Positive Impact
In the wake of COVID-19 and its resultant measures, Ecuador has confronted substantial challenges. These circumstances have compelled many previously stable workers to turn to street vending as a means of sustaining themselves daily. In active partnership with Local Dreamers and Plato Para Todos, we are deeply engaged in a social initiative alongside Banco de Alimentos Quito. This collaborative effort ensures the provision of essential food packages to those who are in dire need. Regardless of their size, your contributions play a pivotal role in instigating meaningful change. To lend your support to this initiative, you can make donations to the following account: IBAN NL49 TRIO 0254484379, under the name of Stg. Local Dreamers, with 'food package' specified in the description. Your support holds immense value and significance.
Building a Brighter Tomorrow
Rebecca Adventure Travel, alongside EcuaFina (Rebecca Adventure Travel's sister company specializing in responsible trading), is resolute in its mission to generate a positive impact within Ecuadorian communities through education. The Antonio de Ulloa school, located in Puembo, Ecuador, is in urgent need of revitalization. In June 2022, we initiated a crowdfunding campaign to champion this cause. Moreover, our joint efforts in August 2022, uniting Rebecca Adventure Travel, EcuaFina, and local communities, materialized in a voluntary communal undertaking known as a Minga. Shoulder to shoulder with the community, we undertook the task of cleaning, painting, and organizing the school facilities, leading to tangible transformations. However, much work remains, and your contribution to our crowdfunding campaign is invaluable in propelling this endeavor forward.
Donate to our crowdfunding campaign
The outcome of your generous contributions
Fostering Hope at Christmas
In November 2022, Rebecca Adventure Travel and EcuaFina launched a campaign to host a Christmas event for the students of Antonio de Ulloa school. Funds raised were dedicated to providing each child with a special Christmas gift. This gesture of kindness brought immense joy to the children, highlighting how even small contributions can create a meaningful impact in the lives of others.
Empowering Education on Children's Day
On Children's Day in 2023, Rebecca Adventure Travel and EcuaFina united for an inspiring initiative. Through fundraising efforts and the generosity of supporters, they established a school library at Antonio de Ulloa school, enriching the lives of its students. The library, stocked with books and educational resources, was unveiled during a vibrant event featuring clowns and a shared meal. The impact of this effort was profound, demonstrating the power of collective action in nurturing young minds.
Read more about this initiative
---

Sustainability and Responsible Travel
Traveling is a remarkable experience that holds the potential to reshape your perspectives and outlook. It allows you to delve into new cultures and forge connections with unfamiliar faces. Yet, when we travel, we must do so with a sense of responsibility to preserve the innate beauty of our destinations. If you're keen on understanding all about responsible travel and contributing positively to the communities you visit, explore the following blogs for comprehensive insights:
Sustainable Travel: Actionable Steps for Your Company
---
Ensuring Safety
Prioritizing Safety at Rebecca Adventure Travel
Within Rebecca Adventure Travel, safety, health, and hygiene stand as our utmost priorities. We rigorously observe the safety protocols endorsed by the World Travel & Tourism Council and the Ministry of Tourism of Ecuador. Our unwavering dedication to these measures has earned us the prestigious #SAFETRAVELS Stamp, a symbol that underscores our commitment to ensuring the safety of our esteemed guests during their journeys.
The entire Rebecca Adventure Travel team, along with our partners and providers, is diligently focused on providing a secure experience. This encompasses preparedness in terms of operations and staff, restoring trust and confidence, and instituting policies that facilitate flexibility in cancellations (detailed in our terms & conditions) throughout the travel journey.
Considering the aforementioned aspects, we have introduced new safety protocols and operational measures to ensure the safety of all our travelers.
Watch this video to see how we are working to make your experience safer: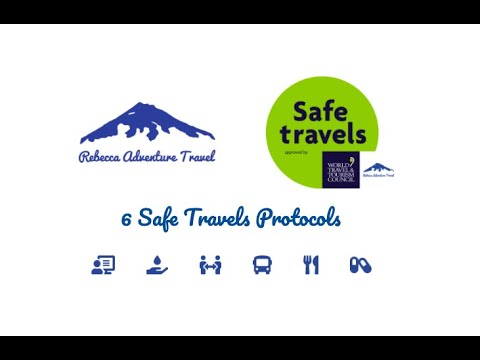 Operational Measures and Safety Protocols
Pre Departure Information:
Every passenger will receive a Pre Departure Information document, detailing the comprehensive itinerary, pick-up times, meeting points, and a General & Sales Enquiries phone number accessible 24/7. Be aware that the itinerary might undergo changes after your arrival. Your guide will meticulously assess each location for security reasons, aiming to avoid crowds and potential risks.
Hygiene and Disinfection:
We offer a Welcome Package, containing:
Disposable face masks

Portable water bottle

Disposable shoe protectors

Antiseptic Gel
Travelers should carry additional sanitary items for use throughout the tour. All providers will thoroughly disinfect transportation, hotel facilities, restaurant premises, and equipment prior to use (especially masks and snorkel tubes). It's recommended for each passenger to bring their own to minimize contact. Staff, guides, and guests are encouraged to practice regular handwashing. Rest assured that public toilets will be suggested by your guide, after verifying their condition.
Social Distancing:
Online hotel check-in is available before arriving in both mainland and Galapagos hotels. Your guide will ensure adherence to the social distance guidelines set by the National Emergency Operations Committee (COE): 1 meter per person in open areas and 2 meters per person in closed areas. Please heed our guides' instructions. Entrances to museums, churches, protected areas, and other paid attractions mentioned in your itinerary will be managed by our guide. All Ecuadorian sites follow recommended distancing standards.
For travelers with private transfers:
Web check-in with LATAM & AVIANCA Airlines is advised before heading to the Galapagos Islands or Coca.

Online registration for the INGALA Transit Control Card will be facilitated by our guide. For payment, our guide will collect the fee in advance (USD 20 per person, in cash) and settle directly at the INGALA counter. A printed card will be provided at the airport.

Payment of the Galapagos National Park Entrance fee (USD 100 per person) must be made in cash upon arrival on the Galapagos Islands (subject to confirmation based on National Park Regulations). We recommend having the money in a separate envelope, ready to be handed to the National Park representative.
Transportation:
In the Galapagos, all crew members aboard speed boats, water taxis, and navigation boats will wear biosafety suits and equipment. In mainland Ecuador, transportation seating arrangements will accommodate the required distancing.
One car: 1 to 2 passengers / Guide Driver
Van (8 passengers capacity): 3 to 4 passengers/ Guide Driver
Mini bus (15 passengers capacity): 5 to 9 passengers/ Guide + Driver
Food:
Breakfast: Offered in all hotels (room service available for an extra cost).
Lunch: Restaurants will provide private service for our clients, maintaining strict hygiene and social distancing protocols. Certain tours may include box lunches. Your guide will provide prior information.
Dinner: Available in most hotels (room service with an extra cost).
Your guide will recommend safe places to purchase snacks or beverages. Avoid purchasing anything from street vendors.
Medicine:
Travelers should bring necessary medications from their home countries, especially those for seasickness and altitude sickness. Travel insurance is mandatory. Ensure your insurance covers potential incidents like terrorism and natural disasters. Always carry proof of insurance.
Ensuring the safety and well-being of all our travelguestsguests is the foremost priority for Rebecca Adventure Travel.
Download our Safety Protocol as PDF
---
Please, contact us if you have suggestions, questions, or complaints regarding the Responsible Travel Strategy.