Galapagos Island Hopping Tours
Rebecca Adventure Travel is the go-to specialist for Galapagos Island Hopping Tours. When you arrive on the islands, you'll be warmly welcomed by your personal hosts. Additionally, a dedicated adventure designer in Quito will attend to all your needs, and Rebecca Adventure Travel even has an agency in the Netherlands to ensure your vacation is flawless. Most importantly, Rebecca's travel experts will be with you every step of the way, from planning your Galapagos Island Hopping Tour to making sure you have the best experience possible.
---

Benefits of Choosing Galapagos Island Hopping Tours
A Galapagos Island hopping tour is a great choice and you have come to the right place. Rebecca Adventure Travel is the leading expert on all Galapagos Island Hopping tours. With over 8 years of experience in the islands, our destination experts are ready to help. With so many islands and visitor sites, it is important you contact us so we can help you choose the right itinerary!
The great thing about Galapagos island-hopping tours is that there is something for everyone. Families, solo travelers, couples, and groups can enjoy the islands to the fullest on a land-based tour. There are many other benefits as well. For example, land-based tours offer local community support and sustainability. You can feel good giving back to the community by dining at a farm-to-table restaurant in the highlands of either Santa Cruz, San Cristobal, or even Isabela Island.
Galapagos Island Hopping Tours
Amazingly, there are a variety of different types of Galapagos Island Hopping Tours for you to choose from, each offering its own unique and exciting itinerary. From multisport trips to luxury safaris and expeditions, there's something for everyone. Best of all, each activity is planned according to your interests, family size, and budget. You'll have plenty of time to visit all the must-see highlights on your bucket list and even explore the Enchanted Islands on your own. You can also contact us if you prefer to call one of Rebecca's Destination Experts to discuss your vacation in detail to the Galapagos Islands.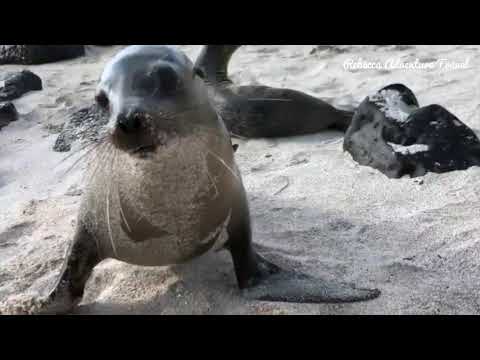 Departures for Galapagos Island Hopping tours are possible each day of the week throughout the year. In addition, all Galapagos Island Hopping tours can be booked by solo travelers, couples, families, and even groups of various sizes. There are three different categories of family-owned hotels to choose from when booking your Galapagos Island Hopping Tour. Additionally, these tours include excellent day tours to some of the most fascinating islands and visitor sites in the area, as well as transfers and speedboats coordinated specifically for your convenience. It's worth noting that all island hopping tours come with transportation, guided tours, some self-guided activities, hotels, and anything else mentioned in the itinerary provided by your Destination Expert in your travel plan!
---

Types of Galapagos Island Hopping Tours
As you examine this table, you'll notice how the Galapagos Island Hopping Tours are divided into several different categories, each with its own unique features and attractions. Furthermore, if you prefer a custom-made trip to the Galapagos Islands with your own ideas and wish list, do not hesitate to contact us.
Island Hopping Tours
Hotel Class
Activity Level
(Physical Activity)
Transfers (Driver)

Luxury

Luxury
Medium
English

Expedition

Tourist Superior
Low to Medium
English

Multisport

Tourist Superior
High
English
Classic
Tourist Superior
Low
English

Budget

Tourist
Medium
Spanish
---

Galapagos Luxury Tours
The Galapagos Island Luxury Tours are designed for travelers who enjoy premium quality and comfort. During your Galapagos Island Hopping Tours, you can expect to enjoy the highest levels of service and stay at the best hotels available. What's more, these hotels are not only luxurious but also sustainable, family-owned, and boutique-style, making for a truly unique and unforgettable experience. There is a mix of activities such as unique wildlife observation, enjoyable sceneries, and visiting different islands by yacht on a relaxing day tour. Also, there are different charter or group options available for yachts, hotels, transportation, flights, and excursions.
Luxury Packages
13-Day Galapagos Complete Luxury: Cruise + Island Hopping
---

Galapagos Expedition Tours
The Galapagos Expedition Tours are designed for travelers who like a combination of organized activities and exploration of other parts of the Galapagos Islands. This boutique-style type of holiday is perfect for those who prefer to spend a lot of time by themselves rather than in groups. Additionally, the accommodation provided is both comfortable and conveniently located close to the ocean.
Expedition Packages
9 Day Galapagos Islands Family Friendly Tour with Kids
7 -Days Galapagos Food Tour Small Group
7-Day Galapagos Hidden Treasures
4-Day San Cristobal Expedition
---

Galapagos Multisport Tours
The Galapagos Multisport Tours are perfect for travelers who want to get to know the islands and observe the unique wildlife and scenery in an active way. Not only do travelers prefer to limit their time traveling between islands, but they also often choose to visit the lesser-known island of Isabela. Furthermore, when it comes to accommodation, there are plenty of options available to suit a range of preferences, from standard tourist-class hotels to more luxurious alternatives. Moreover, the activities and expeditions offered on these tours are shared, providing you with the opportunity to meet other active travelers from all over the world. Plus, if you're a fan of diving, these tours come highly recommended, as the Galapagos underwater world is truly unique and unlike anything you've experienced before.
Multisport Packages
6-Day Galapagos Diving & Hiking
6-Day Galapagos Padi Scuba Course
---

Galapagos Island Hopping Classic Tours
The Galapagos Island hopping Classic tours are a must, as they offer a combination of interesting day tours and time to explore the islands by yourself at your leisure. Additionally, you can try delicious meals and receive great service for a reasonable price. Whether you prefer to travel with a group or individually, there are options available to suit your needs, with both fixed departure dates and daily departures. If you're looking for the ultimate bucket-list holiday to the Galapagos, this is the trip for you.
Classic Packages
8-Day Galapagos Island Hopping Classic
7-Day Galapagos Island Hopping Classic
6-Day Galapagos Island Hopping Classic
5 Day Galapagos Island Hopping Classic
4 Day Galapagos Island Hopping Classic
---

Galapagos Island Hopping Budget Tours
The Galapagos Budget Tours are specifically designed for budget-conscious travelers who want to experience the highlights of the Galapagos Islands and enjoy lots of activities, without necessarily staying in tourist-class hotels. What's more, all tours and transportation are shared, which means you'll have the opportunity to meet lots of other like-minded travelers during your journey.
Budget Packages
8-Day Galapagos Island Hopping Budget
7-Day Galapagos Island Hopping Budget
6-Day Galapagos Island Hopping Budget
5 Day Galapagos Island Hopping Budget
4-Day Galapagos Island Hopping Budget
---

Galapagos Cruises
In addition to land-based tours, you can also choose to discover the Galapagos Islands by cruise. These cruises or yachts come in small sizes, accommodating up to 16 passengers, providing the perfect private and intimate experience. During the day, you'll have the chance to visit different parts of the Galapagos archipelago, and at night, you'll navigate to the next spot. Therefore, on a cruise, you can experience much more of the islands compared to an island-hopping itinerary. Furthermore, if you charter the yacht, you won't have to share it with other guests – just the crew, your guide, and your travel group. Read more about cruises in the Galapagos Islands here.
Don't forget to check our Step by Step Guide for booking your Galapagos Flights. By doing so, you will be informed on how to correctly book your Galapagos flights, allowing you to start your vacation without any inconveniences.
---
Build Your Own Trip
Also, you can also contact us to create your own customized trip. If you have any special requests for your Galapagos Island Hopping Tour – such as a complete private tour with chartered services, perhaps a honeymoon, a family trip, or a very short tour – please contact our destination experts, and we will be happy to help!