Rebecca's Diary: World Travel Awards Winner, Fairs & New Travel Tours
We're thrilled to share with you the remarkable recognition the World Travel Awards have given us! As a leading tour operator in Ecuador, this accolade reinforces our commitment to excellence and innovation in the travel industry. Join us in exploring diverse destinations! As we showcase Ecuador's beauty, we'll embark on regenerative travel adventures, navigating the challenges of preserving our planet for future generations. Our dedication to sustainability, safety, and enriching travel experiences drives every aspect of our adventures. We invite you to come along as we share stories, insights, and inspiration from the world of travel, where conservation and forging memories take center stage.
---
Ecuador's Leading Tour Operator
Let's begin with the best news of the year! Rebecca Adventure Travel was chosen as Ecuador's Leading Tour Operator. The World Travel Awards recognize and celebrate the achievements of travel companies around the world, highlighting excellence and innovation in the industry. This victory solidified our position as the pinnacle tour operator in Ecuador. The heartfelt appreciation we feel towards everyone who supported us has no bounds. Thank you so much to all our fans and voters. I am so proud of all our suppliers, guides, and, of course, our in-house team!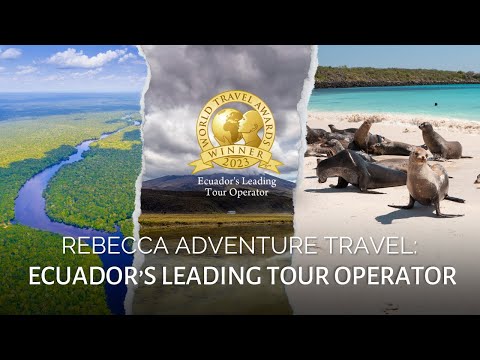 ---
Europe Roadshow
Rebecca Adventure Travel had the honor of joining the Europe Roadshow, an initiative from the Ecuadorian Ministry of Tourism. This exceptional event brought us to four European cities. We collaborated with about 20 local companies to showcase Ecuador's beauty to local buyers and influential members of the press.
Our adventure kicked off in the Netherlands, where we participated in a special salon for Ecuador at the TravPro event in Amersfoort. This Dutch B2B gathering is known for its diverse stands and engaging conversations. It offered the ideal platform to introduce Ecuador's outstanding experiences. Next, we went to Zurich, Milan, and Barcelona. There, we engaged with enthusiastic travel agents keen to include Ecuador in their future offerings.
Notably, Rebecca Adventure Travel's commitment to excellence has earned recognition from the prestigious World Travel Awards. This accolade underscores our dedication to promoting Ecuador as a top destination for adventure and discovery. We're eager to continue our journey, develop partnerships, and bring the allure of Ecuador to travelers worldwide.
---
New Travel Tours
After winning at the World Travel Awards, Rebecca Adventure Travel is set to start an exciting new chapter. This accomplishment has served as a catalyst, leading to the creation of captivating, adventure-filled tours. They are focused on horseback riding and biking through the breathtaking Ecuadorian Andes Mountains and activities around the extensive Ecuadorian Amazon. These meticulously crafted tours will immerse travelers in the vibrant nature and rich local culture. With a profound devotion to excellence, we'd like to introduce these exceptional expeditions, inviting travelers to explore the heart of the Andes, immerse inside the Amazon Forest, and create lasting memories.
Embark on a luxury wellness retreat in Ecuador, immersing yourself in the enchanting wonders of the Amazon and the majestic Andes. Enjoy captivating yoga and pilates sessions amidst breathtaking landscapes, connecting mind, body, and soul.
Get the premium experience amidst lush surroundings, come across a variety of wildlife, and learn about medicinal plants from experts. Explore the wonders of Yasuní National Park, where the Observation Tower unveils breathtaking panoramas and the Tulcaneta Trail immerses you in the mesmerizing rainforest beauty.
Traverse the slopes of the Rumiñahui Volcano, encountering wild bulls and birds near the rocky peaks, which offer clear-day views of 12 more volcanoes. Spot Andean birds, wild horses, and bravo cattle as you get to know the local Chagra culture.
This thrilling Andes and cloudforest adventure combines pumping excitement with the opportunity to immerse yourself in the local culture. Ride through villages, pedal along the Panamericana road, and discover the enchanting beauty of lush cloud forests!
Get ready for an extraordinary experience of horseback riding through Ecuador's Andes Mountains. Your adventure starts with the awe-inspiring Cotopaxi National Park, moves through magical Andean views, and even includes a peaceful stop at the Owl Refuge.
---
Regenerative Travel Summit New York
In September, we had the incredible opportunity to participate in Climate Week in New York, joining fellow travel industry change-makers passionate about regenerative travel. Throughout four eye-opening days in Manhattan and Brooklyn, Katie rekindled my commitment to this vital concept. The journey started with a climate cruise around Long Island, highlighting the urgency for action, followed by invaluable insights at the Art and Design Museum event. Regenerative travel means leaving a destination in a better state than we found it, a principle at the core of Rebecca Adventure Travel, recognized with the World Travel Awards.
Our mission is to lead by example and set a standard for the industry, ensuring travelers experience destinations with a clear conscience. This creates a sustainable cycle, enriching both travelers and the places they visit while preserving them for future generations. The travel industry holds the potential for positive change and sustainability, a mission underscored by our recognition at the World Travel Awards. Together, we can shape a brighter future through mindful and intentional travel.
---
New House in the Netherlands
Our journey to the Netherlands began in August. While waiting for our new house, we stayed in my hometown. The process of preparing the house, including floors, painting, furniture, and equipment, made our transition to the new home in September all the more rewarding.
In September, our new home in Zutphen welcomed us with open arms. As we settled into this charming Dutch city, we couldn't resist exploring its rich history and vibrant culture. Some exciting adventures included strolling through the quaint streets of Zutphen's historic center, visiting the fascinating St. Walburgiskerk Church, and indulging in delicious local treats at the bustling September Zutphen Fair. Our new life in the Netherlands was off to an exciting start, and we look forward to many more adventures in this picturesque city.
---
3 op Reis in Chimborazo
3 op Reis, a renowned travel show, features a special on Ecuador this month. Two Dutch adventurers are exploring the country, with a thrilling climb up the Chimborazo Volcano and an exhilarating downhill snowboarding experience. They chose an adventurous lodge for their stay, offering hiking, horseback riding, and even the daring tasting of a cuy (guinea pig) dish, a local delicacy. This captivating episode promises to showcase Ecuador's diverse and exciting travel opportunities while inspiring viewers to embark on their own thrilling adventures in this dazzling destination.
---
Bird Flu in Galapagos
The avian flu, originally emerging from the Peruvian coasts, has now infiltrated the UNESCO World Heritage Site that is Galapagos. Since this remarkable ecosystem is known for its exceptional biodiversity, to combat this outbreak, there are strict measures, including vigilant disease surveillance and targeted bird population vaccination campaigns. Moreover, public outdoor areas are now subject to enhanced disinfection protocols, and certain visitor sites on Española, Genovesa, and San Cristóbal islands are temporarily closed to tour boats. All in an effort to prevent the virus from spreading.
In these challenging times, dedicated scientists, conservationists, and the Ecuadorian government are collaborating closely with international organizations to ensure the preservation of the Galapagos' unique biodiversity. So our commitment to your safety and providing timely updates on any itinerary adjustments remains unwavering. Although these circumstances are unfortunate and unforeseen, please rest assured that we are devoted to sharing essential safety information with Galapagos authorities as we navigate these challenges together. We always prioritize your safety and protection in this wonderful archipelago!
---
You might also like:
---