Can you visit the Galapagos Islands on a budget?
Can you visit the Galapagos Islands on a budget? The Galapagos Archipelago consists of 19 volcanic islands, where you can find different species of animals. The islands are very famous for their endemic fauna and flora, as well as their relation to Darwin's Evolution Theory, most of the activities are related to it. So, you can find a few options to make your trip more affordable than you might think.
---
First of all, let's talk about the accommodation for your Galapagos Islands trip. There are two different ways to visit the Galapagos:
Book a cruise: it's easy, simple and pretty much everything is organized.
Island hopping: you'll be based on an island and be able to visit different places. Depending on the duration of your stay, you'll explore the islands by yourself and also with pre-arranged activities.
Galapagos Islands is an all-year-round destination. This means that you can travel during the low season when it's cheaper and you'll still have plenty of activities to do and animals to see. However, prices can be higher between June, July, and August, and from mid-December to mid-January. So, keep that in mind so you can visit the Galapagos Islands on a budget.
Now, talking about the cruises, there is a wide range of options for you to choose from. Also, be aware that the price depends on the time of the year that you're planning your Galapagos Islands vacations.
Last minute cruises
Since the purpose is to visit the Galapagos Islands on a budget, you can book last-minute cruises! You can find discounts and deals for all the types of cruises and cabins available at Rebecca Adventure Travel. For instance, by booking a last-minute tour you can visit islands that are inhabited. Luckily, you can plan your Galapagos Islands vacations in advance since these deals are published a few months before.
Island hopping tours
Island hopping is another way you can visit Galapagos Island on a budget. This option gives you more freedom to choose your travels, but there are also planned activities for you. In particular, there are several alternatives with different parameters such as duration and accommodation.
Depending on how many days your Galapagos Islands trip is going to be, you'll be taken to different islands, hotels, and tours. Actually, it's recommended that you stay at least 4 days so you can stay on two different islands.
If you're not sure if you can visit the Galapagos Islands by cruise or by island hopping, you can read the major differences between them.
You can choose delicious food when you visit the Galapagos Islands
Food in the Galapagos is a major experience. The islands always have fresh seafood and it will be a great foodie experience. Depending on the island you are staying on, you can check one of these places.
Restaurants in Santa Cruz Island for when you visit the Galapagos Islands
Type of restaurant: Seafood & Grill. Vegetarian friendly.

Price range: USD 15- 32.

Great view.
Type of restaurant: Nikkei and local cuisine. Vegetarian friendly.

Price range: N/A but reviews say that is worth it.

Great view.
Type of restaurant: local seafood. Vegetarian friendly

Price range: USD 10-19

Perfect to grab a quick meal before your ferry
It's a street full of small local restaurants so you can choose the one that gets your attention or has more people waiting.

Price range: N/A but cheap.

Perfect to experience meals as locals but, please be aware that it's local food so you might experience little indigestion.
Restaurants in Isabela Island for when you visit the Galapagos Islands
Type of restaurant: seafood local fusion. Vegetarian friendly.

Price range: USD 15-50.

The staff is very nice and friendly.
Type of restaurant: local seafood.

Price range: USD 3-30.

The chef really works on the dishes' presentation.
Type of restaurant: shawarma place. Vegetarian friendly.

Price range: USD 3-12.

If you are tired of the seafood you can spice things up by having shawarma.
Restaurants in San Cristóbal Island for when you visit the Galapagos Islands
Type of Restaurant: Italian, seafood. Vegetarian friendly.

Price range: N/A but reviews say that portions are big enough to share.

Nice tables outside and the owner is very nice.
Type of restaurant: local seafood.

Price range: N/A.

Homely restaurant.
Activities you can do when you visit the Galapagos Islands
Another thing to consider during your trip to the Galapagos Islands on a budget is the activities that you would like to do and the style of vacation you're expecting. Whether you're a more relaxed traveler that enjoys sunbathing, walking down the beach, the adventurous type, or the nature lover, Galapagos has it all. You'll find amazing clear water white sand beaches, challenging trekkings to appreciate the islands, incredible bicycle routes full of wildlife, and endemic trees. You can visit the Galapagos Islands on a budget and be amazed by their beauty, simplicity, and nature.
Relaxed activities in the Galapagos Islands
But, first things first, if you like to relax sunbathe, and maybe do some snorkeling, there are incredible beaches to do so.
▶
Santa Cruz Island
If during your Galapagos Islands trip you're staying in Santa Cruz, this is the biggest island in the archipelago. It has a wide variety of places to stay and restaurants to eat. Puerto Ayora city also has the Charles Darwin Research Station where you'll learn more about the islands and the conservation efforts to preserve this incredible place.
In Santa Cruz, the best beaches to lay under the sun, get tanned, and enjoy the company of friendly wildlife are Tortuga Bay, El Garrapatero, and Las Bachas beaches.
Tortuga Bay
Tortuga Bay is a beach 50 min walk from downtown Puerto Ayora. The first activity of your Galapagos Islands vacation can be trekking just to the beach. You'll experience its white sand and talcum textured, the water is turquoise, and the iguanas will be chilling alongside the sea lions. Tortuga Bay is named because it's the place of sea turtle nesting. The amazingly clear waters will let you snorkel and see all the colored beautiful fish maybe some sea turtles. Because of that, kayaking is also a good plan for your Galapagos Islands vacations.
If you follow the path you'll get to Playa Brava, where the currents are strong enough to be the perfect place to surf. Hidden somewhere in the mangroves there is the path to get to Playa Mansa, a more protected beach where sunbathing and swimming are ideal.
El Garrapatero
The next beach you can visit in the Galapagos Islands is located on the same island, 30 min drive from the town of Puerto Ayora. This beach is not as crowded as Tortuga Bay, and the advantage is that you have the same clear water, white sand, and friendly animals. It's super close to the coast there is a small lagoon where flamingos, blue-footed boobies, and other endemic birds live. In the water try to find sea turtles and all the colorful reef fishes.
Las Bachas
Another place to visit during your Galapagos Islands vacations is Las Bachas beach. This beach is one of the main nesting sites for sea turtles. When you walk by the dunes be careful not to step on one of them. Its name comes from World War II when the US Army had a base in Baltra. Then, they left two barges but locals couldn't pronounce it right so eventually it became Bachas beach.
Behind the beach lies two small ponds where flamingos and other birds can occasionally be spotted so try to be super quiet when approaching to not scare them.
If you want to go to Floreana Island be aware that there aren't that many boats available all the time, so you may have to wait on the island to go back.
Isabela Island
If during your Galapagos Islands trip your base is Isabela Island, then Puerto Villamil beach is the best option. It's one of the longest beaches of the Galapagos Islands with 1.8 miles to be discovered. Therefore, if you enjoy long walks on the beach this is the perfect place for you. Of course, you can spot some animals like iguanas and flamingos and other sea birds while you are walking.
Playa del Amor
If you want to change the beach scenery of your Galapagos Islands trip, then you have to visit Playa del Amor. Because it has volcanic rocks that make contrast with the white sand and turquoise water. If you go for a swim there you'll have the company of marine iguanas and sea lions.
Side note, Isabela Island is the smallest one in terms of population and has a very boho, hippie chic, kind of vibe very charming. It is the perfect place to disconnect from the outside world.
San Cristóbal Island
Last but not least, for San Cristóbal Island. You could call it the main island of the Galapagos since the Airport is here and you have plenty of options to enjoy your Galapagos Islands vacations.
Punta Carola
Punta Carola is a beach for adventurers and sunset lovers. It has coral sand and crystal clear waters. But has a crescent shape that at the end of it has a red-white lighthouse. Besides, here you can have some shade. Be cautious not to invade a place occupied by a sea lion or an iguana, since they are all over the place. Also, thanks to its orientation you can spot the most incredible sunset so prepare your cameras.
And not just that but because of its rocks, it's a perfect spot for surfing! If you're a beginner maybe try another spot because you need more experience. The same rocks that make it a place for surfing help it to be an incredible place for snorkeling among the sea turtles, colorful fishes, and so on. It's one of the most recommended beaches also because it'll be part of your visit to the Galapagos Islands on a budget since you can have a pleasant 1.2 miles paved walk there.
Puerto Chino
Is another incredible beach on San Cristóbal Island. It isn't that close to Punta Carola but, either way, you don't need a boat or a cruise to get there. This blue calm water is one of the nesting sites for blue-footed boobies. Also is more of a local beach so if you go during the week the chances are that the beach will be empty. There is a small cliff here perfect spot for photos so make sure you climb it to catch a glimpse of the entire beach and capture your Galapagos Islands trip.
Mann Beach
This is another wonderful beach here, super close to the Interpretation Center. Perfect to chill along with the sea lions after a long day walking and watching the sunset over the horizon. And a way you can visit the Galapagos Islands on a budget.
Gardner Bay
To get here you'll need a boat. This one is located on the inhabited island of Española. But you can't skip this amazing snorkeling spot. You'll have the chance to swim with some of the most beautiful species, sea turtles, reef sharks, parrotfishes, rays, and maybe if you're lucky enough you could spot a Nemo. Gardner bay was voted as one of the best beaches in the world by CNN travel, so you have to include it on your Galapagos Islands vacations.
La Loberia
And of course, the last idyllic beach that has to be part of this list is La Loberia. Another beach for you so you can visit the Galapagos Islands on a budget since it's a 30 min walk from the town. It's one of the best places to snorkel because the outer ring of the rocks helps the water to be calm enough to enjoy a light current and swim with friendly sea turtles and sea lions. Besides, these rocks that protect the shoreline create a powerful break for experienced surfers.
Activities for adventure lovers
For adventurous travelers, there are amazing activities to do when you visit the Galapagos Islands. On Santa Cruz Island there are plenty of activities that you can do. You can spot the giant tortoises in their natural habitat and at Rebecca Adventure Travel there are tours planned for you or you can contact the destination experts to design a tailor-made trip tour just for you.
Go biking to the island highlands and wander around, it's an amazing activity for your Galapagos Islands vacations! Be aware that if you like to see the endemic species, all the wildlife end their day by 17h so you'll have to start your day early. Diving plans and snorkeling are typical activities if you want your trip in this adventurous mood.
If you're searching for a cheap plan, you can go to Las Grietas, or The Cracks. They are volcanic fractures that collect rainwater, and seawater so it's like a pool. Therefore, the perfect ecosystem for some species that start their lives there. And thanks to the clear blue water, you'll be able to see and swim with them. For this, it's recommended to go early because it gets crowded. Since you can find wildlife almost everywhere you look, admiring it is the best plan for anyone who decides to visit the Galapagos Islands on a budget.
Activities for nature lovers
Let's not forget the plans for nature lovers. Actually, the Galapagos Islands are a huge unique place to see all the species that you've heard of. Blue-footed boobies, albatrosses, land iguanas and so much more. The impressive contrast between the dry cactus forest and the white sand beach is surreal. Thus, when you travel to the Galapagos Islands you have to portray all of them.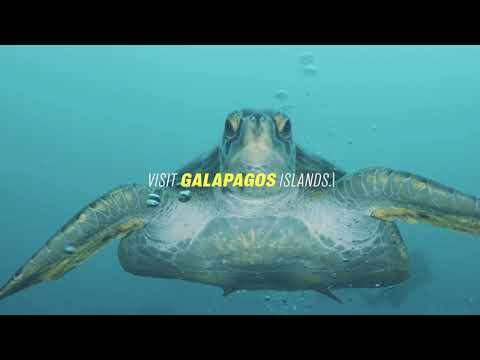 ▶
The inhabited islands like Bartolome, Santa Fe, or Seymour are the perfect places for nature lovers. In Bartolome, you'll have the chance to see all the volcanic landscapes, snorkel, and swim with penguins, and sea lions. also, let's not forget the green sea turtles and the whitetip reef sharks. Have you heard about Pinnacle Rock? This volcanic cone that it's located at the end of a beach? well, it is right here on Bartolome Island, one could say that it's one of the most photographed places on the islands. So you can't miss the opportunity to have it on your Galapagos Islands vacations.
You can visit the oldest of the Galapagos Islands, and that would be Santa Fe. It's known for its fauna, the palo santo trees, and the cactus forest. Since the island isn't that big and it's not that far from Santa Cruz you can visit it on a day trip. What to expect on this tiny island? Two types of land Iguanas, sea lions, and multiple species of birds that array here. Definitely a must you can visit the Galapagos Islands.
And what about Seymour? This is the right place for ornithologists and birdwatchers, this island is the most important fishing site for marine birds. Also, you can spot the frigatebirds in their nest. And there is an amazing view of the canal formed by Santa Fe and Bartolome. Certainly, a must-see when you visit the Galapagos Islands!
You can visit the Galapagos Islands on a budget. There's a 100% chance that you'll come back for more!
---
Did you like this blog? You might also like:
---
Build Your Own Trip
You can also contact us to create your own customized trip. If you have special requests like a complete private tour with services and hotels chartered, a honeymoon, a family trip, or a very short tour, just contact our destination experts and we will help.
---