Cruising or Lodge Stay? Discover the Best Way to Explore the Ecuadorian Amazon Rainforest
Prepare for an extraordinary journey deep into the Ecuadorian Amazon rainforest, a realm teeming with unparalleled biodiversity and cultural wonders. As you embark on this adventure, you'll face a traveler's dilemma: the choice between an adventurous river cruise or a serene eco-lodge stay. In this guide, delve into the lodging options within Yasuní National Park, highlighting the advantages of river cruising and eco-lodge stays. You'll also get to know Yasuní, unravel the logistics of reaching it, and unveil thrilling activities. Finally, contemplate combining both for a balanced approach, maximizing your Ecuadorian Amazon experience.
---
Why Should You Visit Yasuní National Park?
Before diving into the cruise vs. lodge debate, it's essential to understand why Yasuní National Park stands out as a must-visit destination in the Ecuadorian Amazon. Yasuní is renowned for its exceptional biodiversity, making it one of the most protected areas on the planet. This national park, covering a vast expanse of 3,792 sq mi (9,823 sq km) between the Napo and Curaray Rivers, sprawls across the Napo, Pastaza, and Orellana provinces. It is home to an astonishing variety of bird species, trees, mammals, amphibians, and bats, which beckon nature enthusiasts from around the globe.
---
How To Get To Yasuní National Park
To begin with your Ecuadorian Amazon adventure, you'll need to reach the gateway to this pristine wilderness: Coca, a small town in the eastern part of the country. From Coca, you can access Yasuní National Park via the Napo River, your entry point to the heart of the Amazon rainforest. If you're traveling from Quito, the capital of Ecuador, you have two options: a (roughly) 6-hour drive to Coca or a 40-minute flight from Quito International Airport. Two local airlines, Aeroregional and Latam, operate flights to Coca, ensuring convenient access to this remarkable region.
---
Activities in the Ecuadorian Amazon
Now that you've arrived in the Ecuadorian Amazon, the real adventure begins. The Amazon rainforest offers an array of activities that allow you to explore its rich biodiversity and cultural heritage. Here are some popular activities to dive into:
Wildlife spotting: Venture on wildlife spotting excursions, especially during the early morning and late afternoon, when animals are most active. Keep your eyes peeled for monkeys, sloths, caimans, river dolphins, and an array of colorful birds like macaws and toucans.
Canoeing and kayaking: Explore the Amazon's intricate waterways by canoe or kayak. Paddle silently through narrow streams and lagoons, savoring spectacular scenery and up-close wildlife encounters.
Birdwatching: With over 1,600 bird species, the Amazon rainforest is a birdwatcher's paradise. Don't miss the opportunity to visit clay licks early in the morning, where you can observe birds gathering to obtain essential minerals.
Nighttime jungle walks: Embark on guided nighttime jungle walks to discover the hidden creatures that come to life after dark, including insects, frogs, and night-active mammals.
Indigenous community visits: Ecuador's Amazon region is home to various indigenous communities, such as the Waorani, Kichwa, and Shuar. Visiting these communities offers a chance to learn about their traditional way of life, cultural practices, and deep connection with the rainforest.
Traditional medicine workshops: Engage in workshops led by local healers (shamans) to learn about traditional Amazonian medicine and plant-based healing practices.
Educational opportunity: When you have some free time between excursions, enjoy briefings and presentations about the unique ecosystem of the Ecuadorian Amazon, its flora and fauna, and the challenges it faces, such as deforestation and climate change.
---
Lodging Options in the Yasuní National Park
Yasuní National Park, located in the Ecuadorian Amazon, currently offers a range of lodging options that allow visitors to immerse themselves in the natural beauty and wilderness of the Park. Here are some popular lodging options within or near Yasuní:
Eco-Lodges
Several eco-lodges are situated within the boundaries of Yasuní National Park, providing a sustainable and immersive experience in the rainforest. These lodges are designed to minimize their impact on the environment and often offer comfortable accommodations, delicious meals, guided excursions, and educational programs about the local ecology and indigenous cultures. Some examples of these eco-lodges include La Selva Eco-Lodge, Sacha Eco-Lodge, and Yarina Eco-Lodge.
Community-Based Lodges
Local indigenous communities near Yasuní National Park operate community-based lodges that provide an authentic cultural experience. These lodges offer comfortable accommodations, traditional meals, and opportunities to engage with locals. Staying in these lodges supports community development initiatives and allows visitors to learn about the indigenous lifestyle. Examples of these lodges include the Napo Cultural Center and Pilche Eco Community Lodge.
Camping
For adventurous travelers, camping is an option in designated areas within the national park. Camping allows you to fully immerse yourself in the rainforest, with the sounds of nature surrounding you. There is a kayak program where you go paddling from one camping area to another.
---
River Cruising in the Ecuadorian Amazon
River cruising is a popular and immersive way to explore the Ecuadorian Amazon. Cruises offer a unique opportunity to navigate through the intricate network of rivers and tributaries, providing access to remote areas and offering a chance to experience the region's incredible biodiversity and cultural heritage.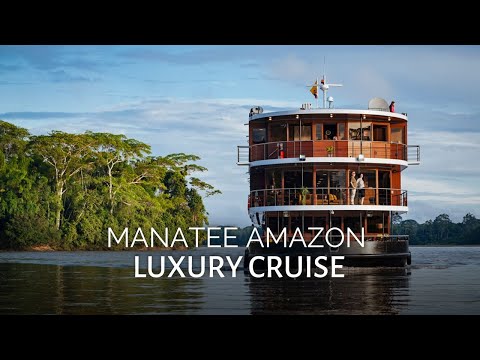 Here's what you can expect from river cruising in the Ecuadorian Amazon:
Itineraries
River cruises in the Ecuadorian Amazon typically have pre-planned itineraries that vary in duration, ranging from a few days to a week or more. The itineraries often include visits to different parts of the Amazon rainforest, wildlife spotting excursions, stops at indigenous communities, and opportunities to explore the unique ecosystems and landscapes of the region.
Vessels
In the Ecuadorian Amazon, river cruise vessels are designed to navigate the river system comfortably. They range from small, intimate boats to larger, more luxurious ships. The size of the vessel may influence the number of passengers it can accommodate and the facilities available on board. Common amenities on river cruise vessels include cabins with private bathrooms, dining areas, lounges, observation decks, and, sometimes, even jacuzzis. In the Ecuadorian Amazon, there are just two vessels operating: the Manatee and the Anakonda. They have a capacity of 30 and 40 travelers respectively.
Wildlife spotting
One of the highlights of river cruising in the Amazon is the opportunity to spot wildlife. The vessels often have open-air decks or platforms, allowing passengers to observe the diverse array of animals that inhabit the riverbanks, such as monkeys, caimans, river dolphins, and an abundance of bird species. Knowledgeable guides provide information about the wildlife and help passengers spot and identify different species.
Cultural experiences
River cruises often include visits to indigenous communities along the river. These stops provide opportunities to learn about traditional ways of life. Interact with community members, and gain insights into their customs, crafts, and ancient knowledge of the rainforest. It's a chance to appreciate the rich cultural heritage of the region and support local communities.
Nighttime activities
Some river cruises offer night excursions to explore the nocturnal side of the Amazon rainforest. Guided walks or boat rides may reveal the fascinating creatures that come to life after dark, such as frogs, insects, and nocturnal mammals.
---
Advantages of River Cruising in the Ecuadorian Amazon
River cruising in the Ecuadorian Amazon provides a comfortable and educational way to explore this biodiverse region. Also, it allows you to reach remote areas, encounter wildlife, connect with indigenous communities, and gain a deeper understanding of the Amazon's ecological and cultural significance. The advantage of going on a river cruise is that you can enjoy the vessel while traveling from one place to another.
You can go birdwatching on the sundeck, get into the jacuzzi, read a book on your balcony, or just relax in your room. Since the boat has air conditioning, the indoor climate is very comfortable and there are very limited insects on board. The experiences are very immersive and you reach a location that is so remote, that the connection you get with local wildlife and communities is very special.
---
Charter a Vessel and Create Your Own Unique Experience
You can also charter the whole vessel for your own group of family or friends. It is possible to change itineraries and even go into the Brazilian or Peruvian parts of the Amazon! You can add holistic elements like coaches, yoga, pilates, breathwork, workshops, and cooking classes aboard. You have the option to bring your own (female) guides and tour leaders. It is also possible to request spa services when organizing your own themed cruise. The vessels that sail in the Ecuadorian Amazon are quite small, so, with groups of 15 people you can already charter the entire vessel.
---
Advantages of an Eco-Lodge Stay in the Ecuadorian Amazon Rainforest
Staying at an eco-lodge in the Ecuadorian Amazon rainforest offers numerous advantages:
Sustainable tourism: Eco-lodges are built with the environment in mind. This means using renewable resources, minimizing waste, and conserving water and energy.
Cultural exchange: Many eco-lodges work closely with local indigenous communities, providing guests with an opportunity to learn about and experience their traditions, crafts, food, and way of life.
Closeness to nature: Eco-lodges are typically situated within the heart of the rainforest. This means you get to be close to nature, away from the hustle and bustle of city life. You can watch birds, monkeys, and other wildlife right from your lodge.
Self-guided activities: Most lodges offer self-guided activities like trail trekking, kayaking, or even yoga & pilates classes. So, for active people, there is always an opportunity to do more during downtime.
Spa: Most luxury eco-lodges feature a spa with massages, beauty treatments, and a jacuzzi.
---
Visiting the Ecuadorian Amazon Rainforest: Cruise or Lodge?
Staying in an eco-lodge and traveling on a cruise into the Amazon Rainforest both offer unique advantages and disadvantages to consider. Our recommendation would be to do a combination of both. First, you can travel with the vessel into the deep Amazon while still being able to enjoy the navigation along the river. The activities are very special in the deep Amazon, and the communities are very remote and interesting to visit. You enjoy all the amenities of the vessel and the high services. After two or three nights, you can extend your stay in the Ecuadorian Amazon rainforest in an eco-lodge, where you typically have more time to yourself for self-guided activities.
---
You might also like:
---