Rebecca's Diary: Family Friendly Activities & Exciting News!
This month is about Family Friendly Activities and giving some good news about the company! It marks my first visit to the Galapagos Islands with my family, celebrating our 8th Anniversary of Rebecca Adventure Travel. We are also planning a memorable family trip to the Napo Amazon Region, where we'll be staying at the Itamandi Lodge. Additionally, we have a short holiday planned along the beautiful Pacific Coast. What's more, we have been honored with a nomination as the Leading Tour Operator in Ecuador by the prestigious World Travel Awards!
---
May, a Journey into Family Fun with Exciting Company News!
Galapagos Islands with toddlers
Most people assume the Galapagos Islands are not a family-friendly destination but I always thought differently. Especially "San Cristobal" is an Island that I wanted to visit with my toddlers because of the convenience due to the short distances, wildlife, beaches, and interesting excursions. We stayed in a new luxury boutique hotel located on the boulevard, Hotel Indigo. When flying to the Galapagos with kids, you have to take into account a couple of things. For this reason, I have created the ultimate guide to flying to the Galapagos, providing you with all the important information and tips for a successful and family-friendly trip.
Book a tour with your toddlers
Family Friendly Tour in San Cristobal
Since there are lots of new hotels, guides, activities, and boats entering tourism, it's my task to make sure I know them all and use the best ones for my travelers. This is the first time I am going with my toddlers. As a mother myself, I recognize the unique needs and interests of families with young children. That's why I curated a special toddler trip to the Galapagos. This carefully designed trip makes sure you get the best experience when traveling with toddlers, and list all the family-friendly activities you can make in this location.
San Cristobal family-friendly activities.
When we arrived in San Cristobal we did a ceviche cooking class with a woman named Barbara. She used to own a small "kiosko" on Playa Mann where she would sell her ceviches until a friend of mine helped her to hire a bigger restaurant where she could offer ceviche classes. She taught us (including the kids!) how to make the best ceviche and the result was delicious! We also went kayaking around Playa Oro where there are lots of sea lions. At night, the boulevard in San Cristobal is the best place to be for food, outdoor playgrounds, and observing hundreds of sea lions making noise. We embarked on two full-day excursions from San Cristobal with the toddlers: one at sea and the other to the highlands of San Cristobal. My kids absolutely loved all of it!
8th Anniversary Rebecca Adventure Travel
On the 12th of May, we celebrated the anniversary of Rebecca Adventure Travel, marking a significant milestone in our journey. Together with our suppliers, partners, employees, and press, we celebrated the success we have had in the last few years. Together with EcuaFina, we invited local artisans who did immersive workshops, showing their crafts. There were local spirits and wines and we invited local chefs who made their favorite Ecuadorian dishes, offering a taste of Ecuador's rich cultural heritage. It's very special to me, thinking of how far we've come as a team. I am so proud of my amazing colleagues who made this event very special. I invite you to witness the magic of our anniversary celebration by watching the captivating video that captures the essence of the event. Let's embark together on a future filled with new goals, achievements, and milestones!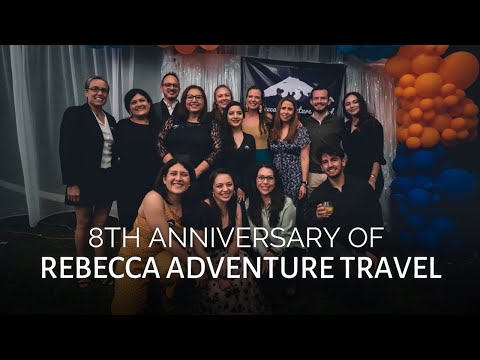 Family trip to the Napo Amazon Region (Itamandi Lodge)
Some of the things I like the most about Ecuador are the proximity and diversity of nature. Only 2,5 hours driving from Quito you reach Tena, a captivating city situated on the border of the Amazon. This region offers a gateway to an extraordinary world of lush greenery, vibrant wildlife, and awe-inspiring biodiversity. There are some authentic eco-lodges where you can truly connect with nature, through authentic and immersive experiences. This time I went with some friends and our kids to Itamandi. An Eco-Lodge along the river with interesting excursions and a refreshing pool. We had a blast and the kids were mesmerized by the kaleidoscope of bird species, the warm-hearted local community, and they especially enjoyed tubing along the river!!
Beach holiday at the Pacific Coast
Experience the ultimate beach holiday on the enchanting Pacific Coast of Ecuador. Starting your journey from Guayaquil, a scenic drive of approximately two hours will lead you to the picturesque province of Santa Elena. Along the way, you'll find authentic villages like Ayangue, Punta Blanca, and Ballenita each offering its own unique charm and allure. Upon arrival, you'll be greeted by long virgin beaches and a delicious warm ocean. We stayed at an apartment next to the beach where we spent 5 blissful days of complete relaxation and refueling of our minds and bodies.
Rebecca Adventure Travel Nominated as Ecuador's Leading Tour Operator
I am thrilled to share an incredible milestone in the history of Rebecca Adventure Travel: For the first time in its existence, we got nominated as a Leading Tour Operator in Ecuador!
The World Travel Awards is a prestigious organization, often referred to as the "Oscars of the Travel Industry". The worldwide known entity recognizes excellence in the global travel and tourism industry. Our nomination is a testament to our commitment to responsible tourism, adventure travel, and community work. I am incredibly grateful to all the individuals who appreciate and acknowledge our efforts, and also to the Rebecca Adventure Travel team, who genuinely care for our travelers and have been instrumental in our success and recognition.
Thank you for being part of our story and for believing in our vision. I hope that all our travelers will continue supporting Rebecca Adventure Travel and vote for us!
Vote for us For Tour Operator Leader!
---
Stay tuned for more of Rebecca's Diaries in next month's newsletter to learn all about stunning destinations, insider tips, and exciting news you won't want to miss out on. See you next month!
---
You might also like:
---