Galapagos Island Cruises: How to Choose?
The Galapagos Islands is one of the most special destinations in the world, but there are so many options to choose from if you would like to visit them. In this blog, we are going to help you with some tips on how to choose your Galapagos Island cruises. When you are choosing your own cruise to the Galapagos Islands there are some important features to take into account.
---
How to Choose Your Galapagos Island Cruises?
Type of Ship
There are different types of ships in the Galapagos Islands: catamarans, yachts, vessels, and sailboats. It is known that catamarans are more stable and best suited for seasick travelers. For example, boats like Archipel I, Archipel II, and Reina Silvia don't cause seasickness that fast. The bigger motor vessels like Legend, Santa Cruz, and Isabela are also spacious and stable.
Number of Guests Onboard
The capacity for Galapagos Islands cruises ranges from 16 to 100 passengers. The services on the cruise depend on the size of the boat. Most of the catamarans and yachts in the Galapagos Islands are small in size. This allows guests on board to have a more personalized service, have a small group for daily excursions, and get to know everyone on board. There are also larger vessels that offer bigger outdoor spaces and facilities, such as a swimming pool, boutique, library, and a kid's corner.
Number of Cruise Days
There are 4, 5, 7, and 8-day Galapagos Island cruises. Also, a 15-day cruise is possible by combining two itineraries. The decision on the right number of days might depend on how many islands you would like to see, and also on the budget for the trip. Generally, the 8-day itinerary covers most of the islands. However, there are also very good short itineraries that visit the highlights of some of the main islands.
Galapagos Cruise Itineraries
It is very important to look at the itineraries before choosing the cruise as there are sites that can only be visited when traveling by cruise, such as Genovesa and Fernandina Islands. Your decision might also depend on the wildlife species that you would like to see. There are unique exotic species on specific islands, such as red-footed boobies, albatross, and cormorant birds among others.
Galapagos Wildlife
Before going to the Galapagos Islands it is important to define which wildlife is important to you. For example, the Archipel is a big cruise, so it will not be possible to see all the most popular animal species because you cannot find them on the islands it visits.
Budget
There are about 70 independent cruise boats on the Galapagos which means that there is a boat available for each budget. We can classify the cruises into four types: Luxury, First Class, Tourist Superior, and Tourist boats. The Tourist Class is the cheapest one, and the highest service level comes from a Luxury cruise. All of them have good itineraries that allow passengers to visit the highlights of a wide range of islands and will make the guests' travel journey special.
Inclusions
Most of the Galapagos Island cruises include guided daily excursions, soft drinks, and all meals (generally buffet style) starting from lunch on the first day and ending with breakfast on the last day. There are some extras that are not included such as alcoholic beverages, wetsuits, snorkeling equipment, tips, airfares, etc.
Kids Friendly
Not all the Galapagos Island cruises allow you to take kids on board. The smaller vessels tend to have a minimum age for children to be able to board. For families, the bigger vessels are a nice option because you can find entertainment for the kids and you have more space to let the kids play.
Activities
Almost all the Galapagos boats offer an itinerary with 2 visits and 4 activities a day. This usually includes snorkeling, hiking, panga riding, or kayaking. There are also dive cruises with special diving itineraries. It is important to know that about half of the activities are carried out in the water, so if you don't like snorkeling it is important to check if the boat has other activity options like a glass-bottom boat or kayak.
Boat Cabins
There is a very big difference in-cabin comfort with the different Galapagos cruises. Some have big suite-type of cabins with small living, a spacious bathrooms, and even a balcony, while some of the boats only offer a 1 square meter bathroom with bunk beds.
---
You can watch a video of Rebecca on the Legend cruise to get an idea of the experience.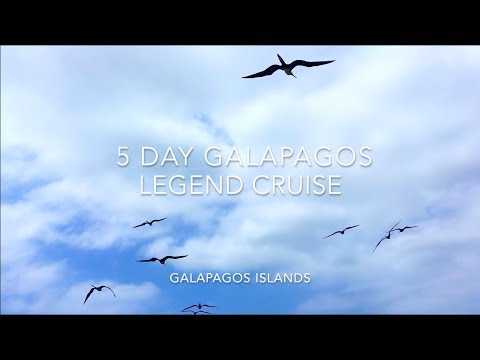 ---
Our sales agents at Rebecca Adventure Travel can guide you to choose the best cruise, considering all the factors mentioned above, in order to make your travel time in Galapagos a once-in-a-lifetime experience. And don't forget to check out our Galapagos Last Minute Cruise Deals!
---
Do you like this blog post? You might also like:
---