5 Differences Between Yasuni & Cuyabeno
In May 2019, Indy went to Yasuni National Park in the Ecuadorian Amazon with Rebecca Adventure Travel. "There is so much wildlife to see in both, Cuyabeno and Yasuni. They both have their specialties." Here you can read 5 differences between Yasuni & Cuyabeno and her personal opinion.
---
Accommodation
In the Cuyabeno Wildlife Reserve, there are beautiful lodges everywhere. Cuyabeno has 16 lodges in total. A few popular lodges are, for example, the Nicky, Jamu, and Dolphin Lodges. These lodges are designed to provide comfort with cozy beds, mosquito nets, and showers with hot water. At night, Cuyabeno cools down a bit, which gives guests a pleasant temperature to sleep in. Additionally, most lodges in Cuyabeno have sources to charge electronic devices.
In the Yasuni National Park, there are more campsites and just a few lodges. Some campsites could be very primitive, while others have a more glamping style. Both of these campsite types give guests the feeling of being connected with nature. As Yasuni is in the middle of the rainforest, expect rain and high humidity during the day and night. At night, it can be quite warm, and there are no mosquito nets, so be aware of this and try to make use of mosquito/insect repellent. Also, there are no charging sources in the campsites of Yasuni. It is important to bring extra batteries for the camera or take a power bank to charge phones and other electronic devices.
Want to know more about the campsites in Yasuni? Read Indy's experience here and find out!
---
Pristine Forest
Yasuni has a more pristine forest than Cuyabeno. The Yasuni rainforest is very pure and looks more untouched by man the deeper you go in the wild jungle. It is primarily rainforest and lies within the Napo moist forest ecoregion. The rivers are used as the main mode of travel.
Cuyabeno is the second largest reserve out of the 45 national parks and protected areas in Ecuador. There is no other national park in the Amazonian countries of Venezuela, Colombia, Peru, or Bolivia with so many lakes and creeks, so conveniently accessible as in Cuyabeno.
FACT: There are multiple indigenous communities living in the Yasuni National Park. There are 'normal' communities, but there are also semi-contact and even non-contact indigenous tribes. It is very interesting to learn and know how they make their living in this pristine forest.
---
Transportation
Yasuni is located deep in the jungle, so it will take a long time to get there. You can take a flight or bus to Coca. The bus to Coca will take around 9 to 10 hours from Quito, and the flight only 40 minutes. After reaching the town in Coca, it is a 2-hour ride to the river on a rocky road. Once in the river, it will take some more time to go to one of the campsites. The campsite of Mandari Panga, for example, takes 1,5 hours by motorized canoe if the river is high. If the river is low, it can take up to 4 hours.
When going to Cuyabeno, you can take a bus going to Lago Agrio. The bus takes up to 8 hours and departs from a few bus stations in Quito. Then from Cuyabeno, you can take a private transfer across the Cuyabeno bridge. This is the entry point into the Amazon Region, and from there, it takes about 2 hours over an asphalt road to reach the wildlife reserve. Once in the reserve, a motorized canoe is one way to move around more rapidly.
---
Wildlife
Seeing wildlife comes with being lucky. Of course, some animals are guaranteed to be seen in the Amazon, but if you are looking for specific species of wildlife, you will need to be really lucky. Wildlife living in Yasuni consists primarily of land animals, while along rivers and lakes, both land and aquatic species can be found. Many land species go to the river to drink while water-dependent species come to the surface to breathe or feed, which is why the river is a good place to see many different animal species.
In Cuyabeno there is more to see, some people say. Cuyabeno has a somewhat drier season, but it is not a rainless dry season, as opposed to Amazon areas further away from the equator. Cuyabeno has one of the highest biodiversity rates in the world. It has a great number of species of animals and plants in the world per hectare.
Patricia and Jonne went to Cuyabeno for a real Amazon experience. Want to know what species of wildlife they saw in Cuyabeno? Read Patricia's blog here and Jonne's blog here!
---
Pricing
Cuyabeno is cheaper than Yasuni in general. This is also because it is closer to the city and easier to reach. Besides that, there is no other Amazon reserve or national park in South America that is as accessible and at such competitive prices as the Cuyabeno Wildlife Reserve.
---
Personal Opinion
I think it depends very much on what guests are looking to see and when they are going to the Amazon. Cuyabeno is cheaper and more accessible but also more crowded with bigger groups. On the other hand, Yasuni is more exclusive and pure, but that is also what you are paying for. In terms of wildlife, I think both places have their advantages, however, you just have to be lucky! You can go to both places and see nothing. I went to Yasuni National Park, and for me, it was a once-in-a-lifetime experience.
See below a video of Indy's experience at Yasuni National Park: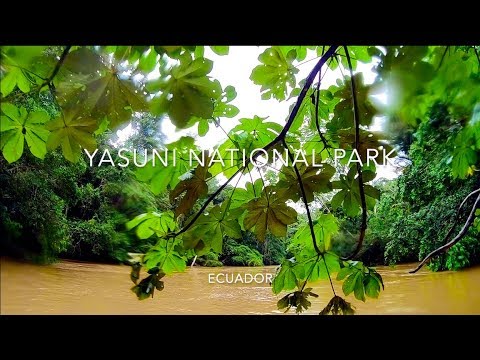 ---
Did you like this blog? We also recommend you read…
---